Pregnancy & breastfeeding
Just like everyone else, pregnant women sometimes need to take medicines. Sometimes the reason has nothing to do with pregnancy, like headaches, allergies or chronic illness. Sometimes health problems start or get worse when a woman is pregnant, like diabetes, morning sickness or high blood pressure. Sometimes women take medicines before they know that they are pregnant. Often there is not enough evidence to give women trustworthy information about how her particular drug might affect the fetus. This is why women and health-care professionals should always report any medicines taken during pregnancy! Your information can help women make informed decisions about the benefits and risks of different treatments!
How-to guide to develop communication campaigns to stimulate reporting of medicine use in pregnancy & breastfeeding
How can we stimulate reporting of medicine use in pregnancy & breastfeeding? We have developed a step-by-step guide for developing communications campaigns to stimulate reporting of medicine use during pregnancy and breastfeeding. The toolkit provides hands-on guidance for TIS-centres, health authorities and other stakeholders to support them in setting up their local, tailored campaigns.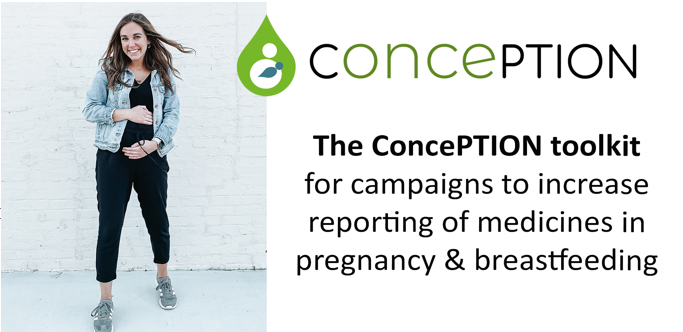 Reporting medicine exposure in pregnancy
There are several ways to report that a woman has used a particular medicine. The different registries are interested in what is often called exposures (when a woman used a particular medicine). The ConcePTION project will build a system where this information can be compared with other important pregnancy information such as miscarriages, stillbirth and malformations, and how children develop. Every report counts!
If you are a pregnant woman
If you used a medicine during your pregnancy (regardless of whether there are unwanted effects or not), you can ask your doctor or midwife to report for you, or report it yourself. There are three different ways to report, but remember to only report each medicine once, and through one of the routes. If you prefer not to ask you healthcare provider, you could:
Report that you have taken a medicine during pregnancy to the company who makes the medicine (Marketing Authorization Holder). You can find the information on where and how to notify them either in the information leaflet included in the product packaging, or by visiting the company website.
In some Europeans countries, you can report through specialized, country specific centers called Teratology Information Services. To find out if this service is available in your country, please visit https://www.entis-org.eu/centers.
You could also report to what is called national competent authorities, which is another name for the authorities that approve medicines (regulators). For EU & EEA countries, you can find a list here: national competent authorities of the EU and EEA on the European Medicines Agency website.
If you are a health care provider
If you prescribe a medicine to a pregnant patient, whether or not it is associated with an adverse drug reaction, you should report the exposure to either the Marketing Authorization Holder of the product, or a national Teratology Information Service centre (if there is such a service in your country). As always, you are required to report adverse events through regular routes. It is particularly important to report any problems that result in hospitalization, significant disability, or death".
If you are reporting exposure (without adverse events), you can find a list of national competent authorities here: national competent authorities of the EU and EEA on the European Medicines Agency website. Your report will likely feed into the EudraVigilance database, a collaboration between different actors in Europe. These include the European Medicines Agency, different National Competent Authorities (national regulatory authorities), the Market Authorisation Holders (companies that make the medicines), and different sponsors of clinical trials (including physicians, academic centres, non-governmental organisations. To find out if there is a Teratology Information Service center in your country, please visit https://www.entis-org.eu/centers.
Want to know how some of these systems work?
Christine Taeter, Head of Immunology Patient Safety Unit at UCB presents the perspective of Marketing Authorization Holders on monitoring the safety of medicines use during pregnancy.
Jonathan Luke Richardson from the UK Teratology Information Service (UKTIS), Newcastle upon Tyne Hospitals NHS Foundation Trust, Newcastle upon Tyne, United Kingdom presents an overview of how ENTIS monitors medication use in pregnancy.
Helen Dolk, Professor of Epidemiology & Health Services Research at Ulster University presents how the EUROmediCAT network works to optimise the use of congenital anomaly registries and healthcare databases for medication safety monitoring.